Help us with a donation!
Bank account for donations: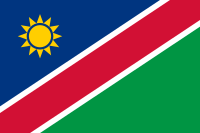 Omaruru Children's Haven
Bank Windhoek
Omaruru Branch
Bank account number: CHK-8002559039

Förderverein Omaruru Children's Haven e.V.
Kreissparkasse Schwalm-Eder
IBAN: DE 405 205 215 410 600 283 37
BIC: HELA DEF1 MEG
More information on our German page here.
Sponsorships
Godparent program
The Omaruru Children's Haven runs a program in which you have the opportunity to sponsor one of our children or young adults. Godparents support their godchild with 30 Euros per month and maintain regular contact with them. The financial contributions are used for the child's daily expenses. Among other things hygiene articles, school materials and fees, clothing, birthday parties, excursions and doctor's visits can be financed. In return, the godparents receive small insights in the life and upbringing of their godchild at a regular basis, beside to self-painted pictures and letters.
We would be happy if the sponsorship is more than just a financial commitment. Our children often ask about their godparents and are happy about every letter they receive from them. In order to guarantee this personal relationship, no more than two sponsorships can be taken upon one child. It is therefore possible, that no children are available for sponsorships at the time of your application. If you want to support Omaruru Children's Haven on a long-term basis, then maybe a material sponsorship would be the right thing for you.
Our sponsorships program runs in cooperation with the Rotary Club Bad Segeberg.
Contact person: Bjoern Pape
Material sponsorships
The Omaruru Children's Haven is largely financed by donations, for which we are each very grateful. Every donation means that a person is actively involved in giving our children more opportunities and a better perspective towards the future on the path to self-determined and responsible adulthood. Maybe we can inspire you to take upon a material sponsorship if you would like to permanently support the Omaruru Children's Haven.
For example:
With 10 Euros per month you can allow a child to attend kindergarten
With 20 Euros per month you can make a doctor's visit with a private doctor for one of our children possible
With 30 Euros per month you allow us to operate our greenhouse
With 50 Euros per month you can allow us to buy fresh fruits as a healthy snack
Of course, you can always donate any other amount towards the Omaruru Children's Haven. We would be happy to tell you what can be and is made possible for our children with your contributions.
Feel free to contact us.
Occasions for Donation
Happiness doubles when you share it.
There are many moments in life that we like to share with people around us. A round birthday, a wedding, a childbirth and an anniversary, events at which we get together with our families, friends and acquaintances to celebrate together. Take the opportunity to share your joy with others – ask your guests for a donation and support for one of our projects.
Give hope
There are also sad moments in life, like the loss of a loved one. Nothing and no one can make it more bearable, however sometimes at least the farewell can be more comforting if you combine it with something hopeful. Flower wreaths are ephemeral, but a donation can create many opportunities.
Volunteer Service
During a one year voluntary service in Namibia, you can become a part of our work. You will live at Haven and you will become a part of the whole – 24 hours, seven days a week. You will be a contact person, colleague and friend.
Our volunteers form a team with our permanent staff and are primarily responsible for study time, as well as the children's leisure activities. They also support the housemothers and the management.
Application
If you are interested in living, working and helping  in Omaruru Childrens Haven for twelve mounths, please send your letter of application as well as your CV to:
info@omaruruchildrenshaven.org.
The application deadline for a voluntary gap year in 2024/25 ends on 31 October 2023.